Janet Holmes à Court Collection
The Holmes à Court Collection, started in the early 1960s, grew from the family's interest in Australian and Indigenous art. It has steadily developed over time into an internationally renowned collection that documents many areas of Australian cultural significance.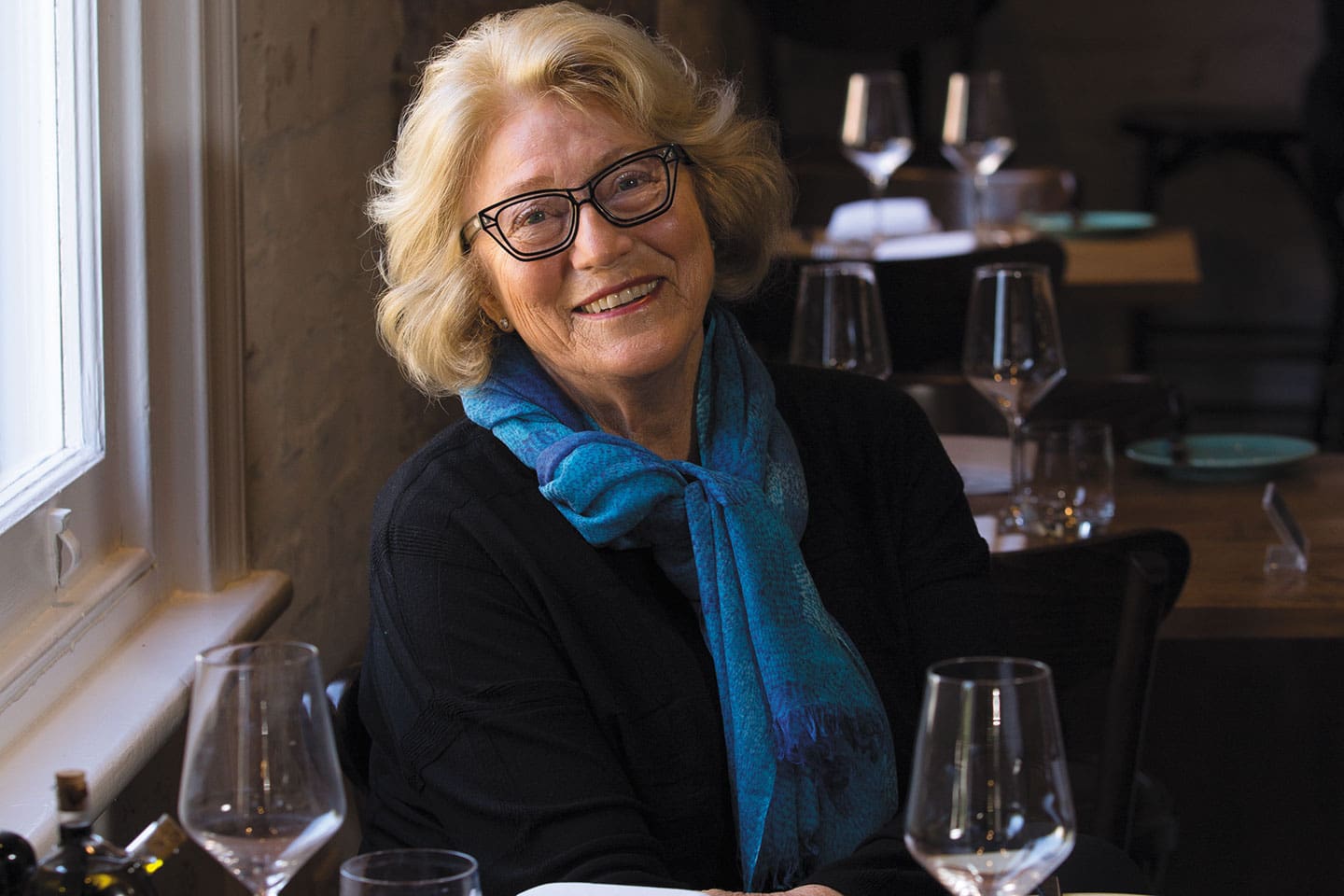 This background has provided the focus for what is an eclectic and very personal collection. A core philosophy has been to look at artists and their works in terms of the connections and relationships that can be formed when developing exhibitions, rather than a chronological or historical recording of Australian art history.
Today the Collection, what is now the Janet Holmes à Court Collection, consists of more than 5,000 registered artworks and continues to be an important collection of Australian and Western Australian art, with a strong emphasis on Indigenous works. We share the Collection with the public through our own exhibitions and loans of works to other public institutions for exhibition and publication. The Collection is also made available where possible for curatorial research. 
Janet Holmes à Court is sole owner of the Janet Holmes à Court Collection.
For any Collection curatorial/research enquiries, please contact Louise Dickmann
Collection Coordinator  |  [email protected]
2023
Helen SEIVER, Nullagine River, 2023, found blanket, assorted threads
https://www.helenseiver.com/view/works/2023-emergences-exhibition
Ric SPENCER, Loaf, 2023, graphite on paper
https://www.holmesacourtgallery.com.au/exhibition/bread-of-bone-2/
Erin COATES, Flooded Dinner, 2023, graphite on paper
Renae FOX, Wati Ngintaka Tjukurrpa, 2023, acrylic on canvas
https://issuu.com/artitja/docs/crossing_country_-_artitja_final_17may23/s/24415992
Alta WINMAR, Creating the Milky Way, 2023, acrylic on canvas
https://echonewspaper.com.au/news/winmar-sisters-exhibit-art-dedicated-to-elders/
Susan ROUX, Moving Right, 2023, ink, polyester thread and aluminium on 325gsm Epson paper
https://artcollectivewa.com.au/whats-on/susan-roux-embed/
Trevor VICKERS, Untitled, 2023, acrylic on canvas
https://artcollectivewa.com.au/artists/trevor-vickers/
Grace SLAVEN, From the Gyre, 2023, oil on canvas
https://www.graceslavenart.net/
Marie HOBBS, Common Clay 1, Common Clay 2 and 45 Rabbit Avenue, 2002, acrylic on canvas
https://www.galeriedusseldorf.com.au/GDArtists/Hobbs/Hobbs2002/MarieHobbsExh2002Cat120k.pdf
Janice STANLEY, Pantu (Salt Lake), 2022, acrylic on canvas
https://artitja.com.au/artist/janice-stanley/
Merrick BELYEA, Scarp IV, 2023, oil on board
Merrick BELYEA, Perth Hills IV, 2023, oil on board
https://artcollectivewa.com.au/whats-on/merrick-belyea-scarp/
William Nyaparu GARDINER, Our Old People, 2018, acrylic and marker pen on paper
https://www.spinifexhillstudio.com.au/artist-profiles/nyaparu-william-gardiner
Pantijiti Mary McLEAN, Kapi Walla, 1999, acrylic on paper
https://japingkaaboriginalart.com/collections/mary-mclean/
2022
Jordan Andreotta, Exspiravit, 2022, oil paint on board
https://www.jordanandreottaart.com/home
David Street, Untitled, 2018, acrylic on canvas
http://www.mangkaja.com/home
Wendy Castleden, Night Life, 2022, pastel on Arches paper
Wendy Castleden, The Bridge, 2022, charcoal and pastel on arches paper
https://www.mrropenstudios.com.au/member/wendy-castleden
Jill Churnside, Washing Day, 2018, paint on found object (Australian flag)
https://tracksweshare.com.au/artist/jill-churnside/
Stuart Elliott, Yellow Cake, 2021, oil on modified found panel
https://artcollectivewa.com.au/whats-on/stuart-elliott-floe/
Eveline Kotai, In and Out, 2022, acrylic and nylon thread on canvas
https://artcollectivewa.com.au/artists/eveline-kotai/
Judith Forrest, Needlework, 2016, oil on canvas
https://gallowsgallery.com/artist-exhibition/judith-forrest/
H.E. Totenhofer, Untitled, unknown, oil on board
Manany, Worr'wurr, 2021, painted wood
William Allan Baker, Norwest Couple, unknown, pencil on paper
Matthew McVeigh, 15 works from White Out series, 2018, whiteout and ink on found posters
https://www.mattmcveigh.com.au/visual-art-categories/poster-works
Mary Dhapalany, Woven Mat, 2022, Gunga (Pandanus Spiralis), natural dyes
https://www.artitja.com.au/ngg_tag/mary-dhapalany/
Betty Carrington, Waiting for the Holy Spirit, 2002, natural ochre and pigments on canvas
https://warmunart.com.au/art/artists/senior/betty-carrington/
Madigan Thomas, Cocky Boy, 2003, natural ochre and pigments on canvas
Madigan Thomas, Bulungia – Fish Hole, 2004, natural ochre and pigments on canvas
Brian McKay, Bushfire, 1993, oil and collage on canvas
Margaret Ganambarra (Gudumurrkuwuy), Barramundi II, 2021, Pandanus (Pandanus Spiralis) and Bush Cane (Flagellaria Indica) with natural dyes
Jennifer Brown, Au-guejechiya (Fish Trap) III, 2022, Pandanus Spiralis and natural dyes
Lena Yarinkura, Yawk Yawk, 2018, Pandanus (Pandanus Spiralis) with ochre pigment and PVA fixative
https://sabbiagallery.com/exhibition/an-jawa-creek-fibre-from-maningrida/
Guy Grey-Smith, Beakers (x8), unknown, glazed and decorated earthenware
Ilona McGuire, Unidentified Natives, 2021, unique state screen print on spray painted card
https://ilonamcguire.com/
Lea Taylor, Captain's Hat, 2022, natural and hand-dyed raffia, Balga resin
Lea Taylor, Booka, 2022, pyrography and paint on kangaroo skin
https://indigenousartcode.org/member/lea-taylor/
Cherish Marrington, Dreams of Baroque, 2022, digital collage, hand embellished Giclee print on handmade mulberry paper
Janine McAullay Bott, Absalom, 2020, palm fronds, driftwood, gum nuts, emu feathers, Xanthorrhoea
https://www.sculptureatbathers.com.au/artist/janine-mcaullay-bott/
Jennie Nayton, Light and Shade – Study 1, 2022, sapele and blackwood veneer on birch plywood
https://www.facebook.com/pages/category/Artist/Jennie-Nayton-Art-218460594840843/
2021
Clare McFarlane, Shuddering Echo i and ii, 2012-2013, acrylic and aerosol on canvas
https://www.claremcfarlane.com
Clyde McGill, The Speech, 2021, dryppoint and monoprint on bfk 270 gsm
Clyde McGill, Cyborg (ii), 2021, monoprint, woodcut, screenprint, ink, acrylic and wax on paper on both sides
Clyde McGill, Cyborg (i), 2021, monoprint, woodcut, screenprint, ink, acrylic and wax on paper on both sides
Clyde McGill, Red Herring (v), 2021, hand coloured etching on paper
Clyde McGill, The Speaker (ii), 2021, acrylic, oil stick, ink, conte on paper
Clyde McGill, The Speaker (i), 2021, acrylic, oil stick, ink, conte on paper
Clyde McGill, Carried Away, 2021, acrylic on canvas
https://fremantleshippingnews.com.au/2021/10/21/interview-with-clyde-mcgill-trans-disciplinary-visual-artist/
Susie Vickery, Jean Baret, 2021, mixed media (textiles, wood and found objects)
http://www.susievickery.com
Nalda Searles, Jug, 1981, coiled sisal with sisal rope and animal hair
Nalda Searles, Warburton Journey, 2012, silk and wood discs on hand twined cord
Nalda Searles, Bush Basket #1, 1992, dense plant material and assorted fragments, stitched and coiled with linen
Nalda Searles, Balga Pillow, 1986, xanthorrhea bracts and salvaged vintage pillow
https://indianoceancrafttriennial.com/festival-event/nalda-searles-finders-keepers/
Sujora Conrad, Remnant Memories: Rosemary Bush with Leaves, 2021
Sujora Conrad, Remnant Memories: Cupboards – Single Woollen Banksia, 2021
Sujora Conrad, Remnant Memories: Ovoid Eucalypt with Rocks, 2021
https://www.instagram.com/sujoraconrad/
Janien (Nien) Schwarz, SH 59-19, 2015
https://nienschwarz.com/about-2/
Kaye Warrie, Thurlawirdingbirding, 2021
https://www.cheedithaart.com.au/online-store/Kaye-Warrie-c36750208
Aileen Sandy, Jiirda (Increasing Site), 2021
https://www.yinjaa-barni.com.au
Melissa Sandy, Sturt Pea, 2021
https://www.yinjaa-barni.com.au
Helen Seiver, Whose Flag? This Land is my Land. This Land is your Land (ii), 2018
Helen Seiver, Whose Flag? This Land is my Land. This Land is your Land (i), 2009
Helen Seiver, Stakeholders, 2007
Helen Seiver, Standing Safe, 2008
Helen Seiver, Adding Absence or How to Find 55 Voices, 2017
https://www.helenseiver.com
Chloe Tupper, Red Banksia, 2017
https://www.stalacontemporary.com.au/exhibitions/brand/chloe-tupper
Monique Tippett, Inglehope – Cockatoo Country, 2021
Monique Tippett, White Water, 2021
https://www.moniquetippett.com
Giles Hohnen, 2021#12, 2021
https://artcollectivewa.com.au/artists/giles-hohnen
Ron Nyisztor, View, 2019
https://artcollectivewa.com.au/artists/ron-nyisztor
Erin Coates, Heavy Metal Petrosal (inner ear), 2020
Erin Coates, Heavy Metal Vertebrae, 2020
Erin Coates, Heavy Metal C1 Vertebrae, 2020
http://www.erincoates.net
Rachel Salmon-Lomas, Relational Artefect 1, 2021
Rachel Salmon-Lomas, Relational Artefect 2, 2021
Susanna Castleden, Dead Tenements (Phire), 2021
Susanna Castleden, Dead Tenements (Gwalia), 2021
https://susannacastleden.com/section/507535-2021-Geelong-Acquisitive-Print-Award.html
Tony Windberg, Golden State, 2021
https://artcollectivewa.com.au/whats-on/tony-windberg-golden-state
Matilda Oxtoby, Wandjina, 2019
https://www.waringarriarts.com.au/our-artists/matilda-oxtoby
George Howlett, Untitled, 2021
https://www.instagram.com/george.h.howlett
Jan van der Ploeg, Untitled, 2021
https://www.janvanderploeg.com/paintings-2021
Trevor Richards, Untitled (giclée print), 2021
Daniel Goettin, Framing (giclée print), 2021
Andrew Leslie, Untitled (giclée print), 2021
Alexander Spremberg, Untitled (giclée print), 2021
https://artcollectivewa.com.au/artists/alex-spremberg
Jeremy Kirwan-Ward, Untitled (giclée print), 2021
https://artcollectivewa.com.au/artists/jeremy-kirwan-ward
Guillaume Boulley, Untitled (giclée print), 2021
David Tremlett, Untitled (giclée print), 2021
Helen Smith, Untitled (giclée print), 2021
https://artcollectivewa.com.au/artists/helen-smith
Zora Kreuzer, Untitled (giclée print), 2021

Jurek Wybraniec, Untitled (giclée print), 2021
https://artcollectivewa.com.au/artists/jurek-wybraniec
Julian Goddard, Untitled (giclée print), 2021

Jan Mullen, Sailing Around the Deep and Briny Blue – Southerly, 2020
Jan Mullen, Sailing Around the Deep and Briny Blue – Northerly, 2020
Jan Mullen, Sailing Around the Deep and Briny Blue – Easterly, 2020
http://janmullen.com.au
2020
Marjorie Coleman, The Wheel of Fortune, 2020
http://www.marjoriecoleman.com
Biddy Bunawarrie, Jila (Snake Living Water), 2020
Biddy Bunawarrie, Jila (Snake Living Water), 2020
Biddy Bunawarrie, Jila (Snake Living Water), 2020
https://thegoodsshedclaremont.com/goods-shed-project/what-now-exhibition
Marianne Burton, Punmu Waterholes, 2020
https://thegoodsshedclaremont.com/goods-shed-project/what-now-exhibition
Judith Anya Samson, Kaalpakarti (Going to Kaalpa, Well 23), 2020
https://martumili.com.au/node/61
Giles Hohnen, 2019 #4, 2019
https://artcollectivewa.com.au/artists/giles-hohnen
Ben Jones, Pollen, 2020
https://sculptureatbathers.com.au/artist/ben-jones
Rebecca Dagnell, Paradise 6
https://www.rebeccadagnall.com/paradise-in-suburbia-slideshow
Rhonda Sharpe, Owl
https://www.yarrenytyarltereartists.com.au/rhonda-sharpe
Yuko Takahashi, Migration
https://sculptureatbathers.com.au/artist/yuko-takahashi/
Miriam Stannage, History of Photography
http://www.lwgallery.uwa.edu.au/__data/assets/pdf_file/0011/2918180/MiriamStannage-Brochure_LARGEPRINT.pdf
Mark Dustin, Guadalcanal
https://www.instagram.com/markdustin
Jo Darbyshire, Love Potion No. 9
http://www.jodarbyshire.com
Curtis Taylor, Scars
https://pica.org.au/show/untitled-uura
Julie Renita Woods, Minyma Kutjara – Special Story for Irrunytju
https://artcollector.net.au/art_centres/papulankutja-artists
Jillian Giles, Minyma Tjukurla
https://www.tjarlirliart.com/jilliangiles
Megan Kirwan Ward, Shield, Big Sister and Reach
https://artcollectivewa.com.au/whats-on/megan-kirwan-ward-stitchscape
Natasha Nakamarra Oldfield, Warna Jukurrpa
https://warlu.com/artist/natasha-nakamarra-oldfield
Kelsey Ashe, Leda and the Swan
https://www.instagram.com/worldofashe
Clyde McGill, Markers, Mourning and Dante's Cartography
https://www.psas.com.au/pages/archives/conditions_of_progress
Alex Spremberg, Liquid Geometries
https://artcollectivewa.com.au/artists/alex-spremberg
Tania Spencer, Seeing with New Eyes the Time to Re-evaluate
http://www.taniaspencer.com
Holly Story, Red Canopy and Spin
http://www.hollystory.com
Katrina Virgona, Crowning Glory
https://katrinavirgona.com
Merrick Belyea, Tree on a Hill, Nanga Brook Road
https://artcollectivewa.com.au/artists/merrick-belyea
Sam James, Pumpkins
https://www.mrropenstudios.com.au/member/sam-james
Sujora Conrad, The Bridge and Here for a While
https://gallery152.com.au/exhibitions/19_purity_danger.php
Hans Arkeveld, Baby Bullets
https://mundaringartscentre.com.au/exhibitions/hans-arkeveld
2019
Tony Windberg, Harvest Gold
https://www.tonywindberg.com
Merrick Belyea, Lesmurdie
https://artcollectivewa.com.au/artists/merrick-belyea
Nigel Hewitt, Twisted Tarn
http://www.nigelhewitt.com.au
Ron Nyisztor, Realm of Agreement
http://www.nyisztor.com.au
Matthew McVeigh in collaboration with Ida Bagus Rekah Bakurha, Economy class to Bali
Matthew McVeigh in collaboration with Mei Saraswati, VEXillology
https://www.mattmcveigh.com.au
Tony Jones, CY's Horse I; Sails I
https://gallowsgallery.com/portfolio-item/tony-jones
Clyde McGill, Beg/Cyborg; Study for Beg Cyborg
https://www.psas.com.au/pages/archive/conditions_of_progress
Monique Tippett, Eucalypt; Paddock; Ashen
https://www.moniquetippett.com
Alex Spremberg, Soft Parade
http://alexspremberg.com
Marjorie Coleman, Full Fathom Five
http://www.marjoriecoleman.com
Carmela Corvaia, Spiral III; Horizon; Stepping Stones; Shore I, Eucalyptus
https://www.facebook.com/fremantleartscentre/posts/two-new-exhibitions-opened-at-the-moores-building-on-friday-have-you-checked-the/10158698796128266/
James Angus, Lopez-Ros No-Go Theorem
https://www.fac.org.au/whats-on/post/james-angus-papier-mache-beginners
George Haynes, Primaverde
http://www.georgehaynes.com.au
Leon Pericles, Cook, Banks, Solander and Harrison
https://leonpericles.com.au/news/storm-in-a-teacup-premiere-f3yep
Trevor Richards, Ground Plane
https://www.fac.org.au/whats-on/post/trevor-richards-ground-plane
Trevor Richards, Yellow Painting
http://www.trevorrichards.iinet.net.au/Trevor_Richards/Home.html
Joshua Webb, Phantasm 1
http://joshuawebb.com.au
Sujora Conrad, Not Cut and Dried (white); Not Cut and Dried (black)
http://gallery152.com.au/exhibitions/19_purity_danger.php
Helen Seiver, Introducing the Wild West to Sydney I; Introducing the Wild West to Sydney II
https://www.midlandjunctionartscentre.com.au/exhibitions/wildflower-state
Lesley Parker, Hills Garden
https://mundaringartscentre.com.au/online-gallery-place-and-space
Vice Chancellor Attila Brungs, University of Technology, Sydney, Wollemi Pine
Eva Fernandez, terra australis incognita
https://artgallery.wa.gov.au/whats-on/exhibitions/botanical-beauty-and-peril
Sue Pogglioli, Folds IV
https://www.galleryeast.com.au/general/books%202019/AB56.html
Mark Dustin, Aramaho Felt
https://www.fac.org.au/whats-on/post/2019-fremantle-arts-centre-print-award
Marcia Espinosa, Staging Times
https://www.fac.org.au/whats-on/post/2019-fremantle-arts-centre-print-award
Angella Ferolla, 1000 to 1
https://www.fac.org.au/whats-on/post/2019-fremantle-arts-centre-print-award
Monika Lukowska, Memory of Place I
https://www.fac.org.au/whats-on/post/2019-fremantle-arts-centre-print-award
Bethamy Linton, Xanthorrhoea Study on Paper #1, Xanthorrhoea Study on Paper #2, Banksia Grandis Leaf Study on Paper
https://www.bethamylinton.com
Jane Martin, Balingup Forest Veranda
https://www.janemartin.com.au
Research & Curatorial Projects